Cassandra Selvaggio
Principal Lawyer, Family Law Accredited Specialist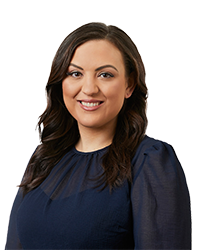 Expertise
Cassandra is an Accredited Specialist in Family Law. She was admitted to practice in 2013 and has practiced exclusively in family law since 2014.
Cassandra is a pragmatic and resourceful lawyer. She combines her comprehensive knowledge of the law with a realistic approach. Cassandra is committed to empowering people to resolve their family law issues in a sensible and cost-effective manner.
Cassandra understands that being a family lawyer is about more than providing legal advice. She ensures that her clients feel supported and informed throughout the process. Cassandra's clients value her professionalism and her friendly and compassionate nature.
She advises and represents people across a broad range of areas including property and parenting matters, spousal maintenance, child support, family violence Intervention Orders and Divorce. Cassandra appears for clients at private mediation and in Court and is a confident and determined advocate.
In addition to her client focused approach, Cassandra is passionate about maintaining expertise in the family law industry. In 2021, she was appointed to the Law Institute of Victoria Family Law Specialisation Advisory Committee. The Committee is responsible for examining and assessing lawyers seeking to gain recognition as an Accredited Specialist in family law.
---
Qualifications
Law Institute of Victoria Accredited Specialist – Family Law
Graduate Diploma in Legal Practice - Leo Cussen Centre for Law
Bachelor of Laws – Latrobe University
Bachelor of Arts (majoring in history) – La Trobe University
---
Membership
Family Law Specialisation Advisory Committee
Law Institute of Victoria – Family Law Section
Law Council of Australia – Family Law Section
---
Contact
Telephone: 03 8672 5222
Office Address: Level 3, 224 Queen Street, Melbourne 3000
Email: cassandra.selvaggio@blackwoodfamilylawyers.com.au