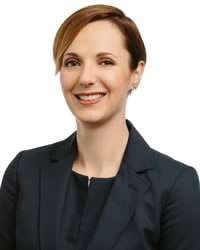 Expertise
Elisa was admitted to practice in 2016. Before her admission, Elisa worked for a number of years in family law as a Family Dispute Resolution Practitioner (mediator) and community legal centre volunteer. She has a broad base of knowledge and experience over wide-ranging family law issues. Elisa works exclusively in family law.
Elisa has a strong interest in issues relating to children, particularly where complex parenting arrangements are required or where there are mental health or family violence issues. Elisa has a particular interest in negotiating arrangements for the care of children and obtaining Consent Orders once arrangements are agreed.
Elisa enjoys representing clients in all areas of family law including property, children, intervention order and divorce matters.
If litigation is necessary, Elisa draws on her experience to achieve optimal outcomes for clients.
Assisting client to take a practical approach to resolving family law issues, Elisa draws on her mediation training to advise on appropriate care arrangements for children based on ages and stages of development. Elisa believes providing sensible informative legal advice to clients allows them to tailor their family law solution to their unique family circumstances and achieve the most favourable outcome for all involved.
Elisa's clients benefit from her experience in mediation, where she assists both parties to achieve optimal results in a less adversarial environment. Elisa is available to facilitate mediations and can provide a section 60I certificate.
Elisa has undertaken advanced training in Collaborative Law.
---
Qualifications
Bachelor of Laws – Victoria University
Graduate Diploma in Legal Practice - Australian National University
Graduate Diploma of Family Dispute Resolution – Relationship Australia
Certificate of Advanced Study and Training in Mediation – Humboldt University of Berlin
Certificate of Advanced Study and Training in Dispute Resolution – Humboldt University of Berlin
---
Membership
Law Institute of Victoria
– Family Law Section
– Young Lawyers Section Professional Development Committee
– Young Lawyers Section Community Issues Committee
Law Council of Australia - Family Law Section
Resolution Institute
Victorian Women Lawyers – Networking Committee
---
Contact
Telephone: 03 8672 5222
Office Address: Level 3, 224 Queen Street, Melbourne 3000
Email: elisa.turco@blackwoodfamilylawyers.com.au